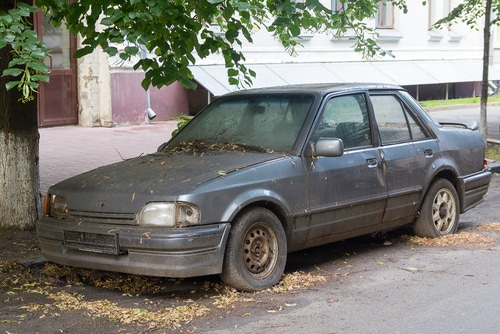 Looking for a place to sell your junk car? Cars 4 Cash is Michigan's #1 junk car buyer. We buy junk cars and deliver your cash in 60 minutes or less – guaranteed.
Signs That It's Time to Sell Your Junk Car
If you have a scrap car taking up space in your yard, driveway, or garage, if you can't sell your car to anyone because of its condition, it's time to make a little room in your life – and in your wallet. Get cash for cars – it's easy with 1-800-Cars4Cash.
Here are just some of the signs that it's time to sell your junk car for cash:
The car doesn't run.
It would cost more to fix the car than it's worth.
There is a lot of body damage.
It's been totaled.
It's been vandalized.
It has a salvage title.
There are over 150,000 miles on the car.
It has a low safety rating.
It looks like a junk car.
How to Sell Your Junk Car and Earn Money
When you can't convince someone to take that clunker off your hands, instead of letting that junk car sit and rust, instead of paying someone to haul your car away, get something for your car – get cash 4 cars.
Cars 4 Cash lets you earn money from a car that is damaged or at the end of its life, whether it's running or not running.
It's easy:
Call us at 1-800-Cars4Cash.
Tell us what kind of car you have.
Give us your location.
Tell us when you want us to be there.
We will pick up your car within the hour or days from now, whenever it's convenient for you.
You don't need the hassle of advertising your junk car, dealing with would-be buyers that fall through, or paying to get your vehicle towed to the junkyard. Cars 4 Cash comes to you, takes your car away, and leaves you top dollar.
Contact 1-800-Cars4Cash to and Say, "Junk My Car!"
Make your life easier by using the fastest, safest, most reliable, and most lucrative buyer of cars in the Detroit area. Cars 4 Cash is ready to take the junk car that's seen better days.
When you need to get a car out of the way quickly or recycle a car in an environmentally responsible way, whether the vehicle is old, doesn't run, or has been damaged beyond repair, you can earn beautiful cash from Cars 4 Cash.
There is no catch. No gimmick. You don't want your junk car, but we do, and we'll pay you for it.
Save time.
Earn cash.
Get rid of your car safely and easily.
It doesn't matter what's wrong with your junk car – we'll buy it from you. Get cash in hand in 60 minutes or less from Michigan's top junk car buyer.
Contact us today.