America's #1 Junk Car Buyer
The only car buying company in America that buys junk cars and delivers your cash in 60 minutes or less.

Plus FREE Pick Up
1-800-Cars- 4-Cash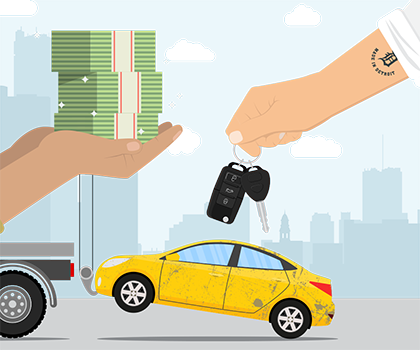 Here's How to Get Cash for Your Junk Car


FREE

Pick Up

We will come pick up your vehicle at no cost to you.


Cash in
1 Hour
We will pay top dollar for your vehicle in less than 1 hour. Guaranteed!
Watch This Video and Get Your Cash Money Today
Junk Car FAQs
Select a Topic
What is 1-800 Cars4Cash?
What types of vehicles does 1-800 Cars4Cash purchase?
Walk me through how it works...
Do I need a title to sell to 1-800 Cars4Cash?
What is the turnaround time to get my vehicle picked up and get paid?
Can I donate my car to charity?
Do you buy cars that have been totaled in accidents?
Do you buy incomplete vehicles?
How do I junk my car in Detroit?
How much do you pay for Junk Cars?
We're in Your Neighborhood
Thousands are selling their cars to 1-800-Cars4Cash. Call us today!